Who am I?
A searching soul with an ambition to learn and inspire.
"A true artist is not one who is inspired, but one who inspires others." - Salvador Dali.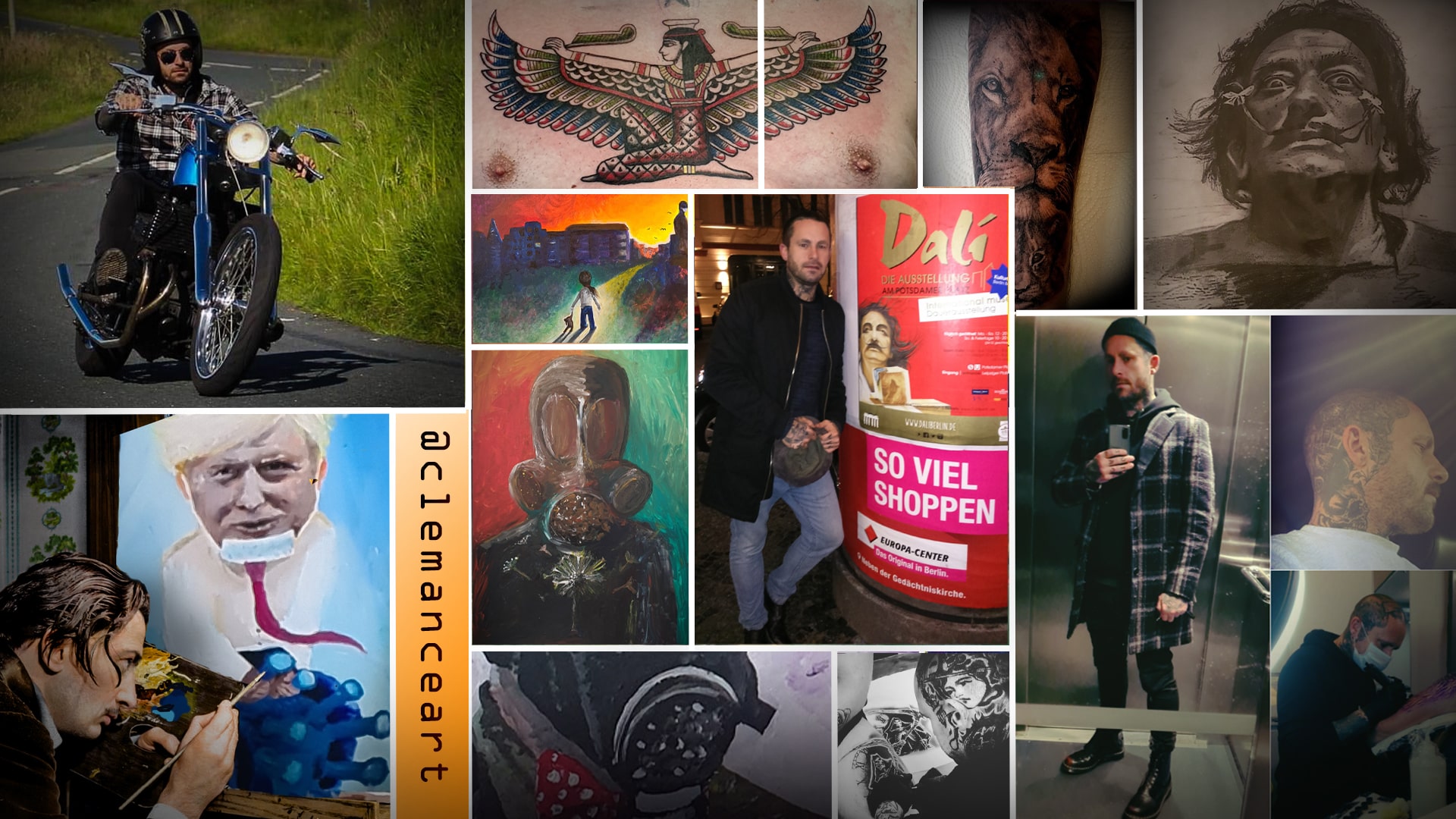 Early life
I'm just a person who strives to create and learn as much as possible. As a young man the only things that kept me in school was sports, art and maths. I never missed an art class but getting me into other lessons was another matter. My school art was focused on pencil and clay work. I loved both.
When I left school I ended up doing a trainee job in a factory, swerving college to earn a dime so I can afford to enjoy life. I managed to save enough money to go on holiday with friends. This holiday resulted in me nearly losing my life due to being attacked by a group of older brits, this changed the course of my life. I am a big believer in everything happening for a reason, these days I have started to understand why it happened. I ended up studying one of my first passions art at Blackburn college for three years. Here I studied the history of art, graphic design and all other mediums of art. I didn't have a plan i just wanted to create art and learn. I practiced with tattoo from home for a short while but stopped after feeling guilty of putting something so permanent on people's skin.
Due to the nature of the attack while I was on holiday I was heavily scarred on my face, head, throat and chest leaving me with severe PTSD and low on confidence for many years and still impacts me to this day. I felt like I needed to reclaim my body so set off on a journey to get some appearence changing tattoos. Little did I know I would end up being a tattoo artist. I think because of this experience I can relate to some people with their decisions to get tattoos. I try to relate to people and If possible question their reasons behind getting a tattoo as from experience we sometimes make rash decisions to make us feel in control.
Working life
After college reality hit again. I had to earn a living. Art was lost. I didn't do anything with it not even in my spare time for many years.
I did lots of jobs as I'm not one for staying in one place and feel the more experiences we have the more we learn. I spent a lot of time in retail management and ended up finally going to university after many years of work. I studied marketing as I knew it would be something valuable if I was to do anything creative. I then started doing graphic design and web design in my spare time teaching myself how to code and eventually built a small social network that I sold after a couple of years. This was the start of getting back into creation. I was doing freelance work doing grahics and web. I spent a few years doing this and by chance I built a website for a friends new tattoo business. I was asked if I fancied tattooing and it went from there.
Tattoo life
I started working from this Liverpool tattoo studio while still doing my web design but soon realised I had unfinsished business with this art form. I used my savings to afford a life decicated to getting as good as possible in as short of a time as possible. That along with some fantactic customers who gave me the luxury of having their skin as a canvas I was soon starting to improve. I spent every minute of the day trying to learn and find new ways to learn this art form. This encouraged me to focus on my art and I had to dust the pencils and brushes off and start creating. I'm now a four and a half years a tattoo artist working at my own tattoo studio in Darwen, Lancashire called The Swallows Nest Tattoo @theswallowsnesttattoo. I also have a beautiful art space in Galgate Lancaster @laartegallery in a grade 2 listed mill where I do some pieces and create art. My main goal was to be the best but these times have made me realise its more important to make people happy and proud to wear their tattoo as a piece of art. These lockdowns and ever changing times has made me analyse everything and realise I need to focus on all forms of art and do what I love to do. Tattoo is important but so is creating other pieces of art for people.